D. George Love is full of Chi and so can you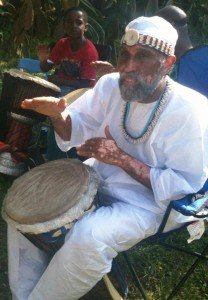 Chi or more properly spelled Qi, is the electro-magnetic energy that flows through your body like blood flows through your veins. Qi is the basis of life and movement. Gong is the mastery of your energy. Meridian Qigong is a moving meditation that self heals through the acupuncture meridians. There are five sources of your personal Qi. First is your ancestral energy, or the energy your mother and father had at the moment of your conception. Then comes energy from the sun and the earth. Human beings are superconductors of electro-magnetic radiation from the earth and sun. Food and water is called nourishing Qi. Lastly, fresh air or breath, which is the literal meaning of the word Qi, is your immediate accessible source. Re-learning how to breathe increases Qi. Adding movement to the breathing exercises expands capabilities of Qi. Meditating while doing breathing exercises quiets the mind, relaxes the nervous system and stimulates the self healing mechanism.
In 1994 Dr. Love, aka Zhenwu became the lineage holder of Lung Qing Qigong, an authentic family style of moving medical qigong. In 1999 Zhenwu carefully rewrote the description of the exercises from his Qigong Master with a new understanding of how the Qi circulates in the process of healing. It is external as it has self defense capabilities and internal as it is self-healing to organs. Qigong is appropriate for anyone over age thirty who wants to have more energy and mental clarity. Medical Qigong can restore youthful vigor and sexual vitality. Qi-Gong is used in hospitals in China to treat cancer, diabetes and chronic degenerative disease. Dr. Love's clinical experience shows Qi-Gong is successful in treating heart disease, diabetes, arthritis, auto-immune disease (AIDS), Chronic fatigue, fibromyalgia, neck, back and shoulder pain. For more on his twenty-three year background and history visit www.GeoLoveHeals.com
Master Lee compelled Zhenwu to teach his authentic family Qigong so that it will live on healing millions and millions. Dr. Love has written two pertinent books on the subject. Meridian Qi Gong and 12 Weeks to S.H.I.E.L.D. Your Immune system.
For the last ten years, Zhenwu has been teaching Medical Qigong morning classes at Boca beach. He is now accepting students who wish to become instructors. Morning classes are free to patients of Dr. Love. Evening classes are taught in Boca Raton by appointment only. Book and video are available. To join the Medical Qigong instructor class, call Dr. Love at 561-502-6200 or
Bocaraton-Acupuncture.com